The Teacher Purpose Engine

Client: Boston Public Schools—Recruitment, Cultivation, and Diversity team

---
SERVICE SYSTEM DESIGN

Can a values-driven approach help to recruit and retain educators of color?
"We need to draw on a person's purpose to reclaim them into the work that we need to do."

—Ceronne Daly, Managing Director of Recruitment, Cultivation and Diversity Programs; Office of Human Capital, Boston Public Schools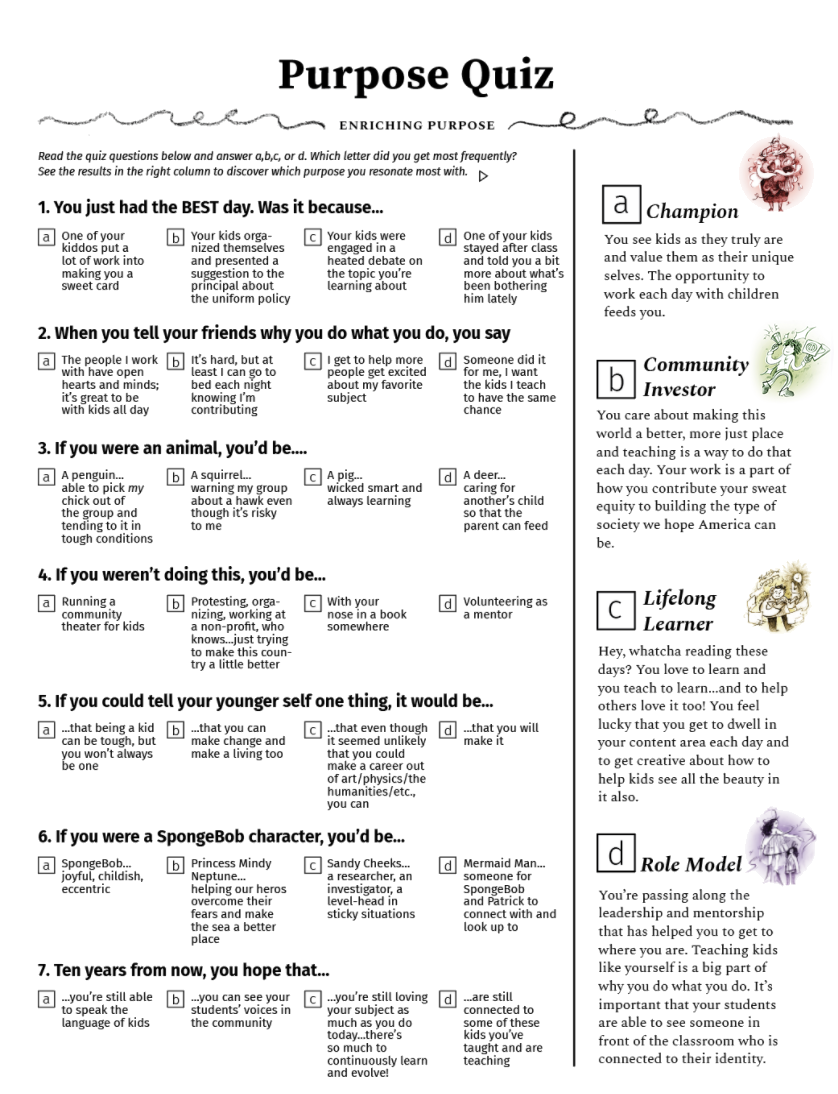 ---
Studies have found educators of color have a greater impact on students of color and, yet (as of the 2019–2020 school year) BPS is composed of 86% students of color compared to less than 40% of its educators.
The Recruitment, Cultivation, and Diversity (RCD) team within the Office of Human Capital is an organization committed to hiring and maintaining a diverse workforce for the district. As the RCD team builds new programs to attract, train and support educators of color, it sought an overarching framework that could connect the disparate elements of its work.
Agncy's challenge was to establish a durable, flexible framework for communication and program development capable of extending through recruitment, development, and retention of educators to help educators understand the range of programs available to them and to empower RCD to make decisions and shape its work.
The Purpose Engine identifies four core purposes that drive teachers in their work. It creates a shared language across the district connected to the "whys" of teaching. Much of the district's communications and programming were "how" specific, introducing new tools or providing lessons in practice. We wanted to, as much as possible, manufacture moments and conditions that could spark the moments of inflection that teachers describe as transformational. These are the pivots that bend the arc of a career, reconnecting teachers to the depth of their day-to-day work, contributing to a strong sense that their career had a narrative—a connective, sense-giving thread.
Identifying these purposes gives the district a better way to talk to and support its educators, offering materials, communications, and programs customized to their strengths and what they care about. Most importantly, identifying the Purpose Engine gives teachers a way to see and validate themselves and to dig deeper into their practice and their values.
---
"The creation of the purpose process was so powerful and I don't think we've actually maximized the capacity of it yet. What was created, I don't think we knew what it was going to be. The power of the work is that it truly develops an organic product. Where did it come from? It came from our teachers. It feels so cool, but the fact that it never existed until we went through this process is even more compelling."

-- Ceronne Daly, Managing Director of Recruitment, Cultivation and Diversity Programs; Office of Human Capital, Boston Public Schools

Our mission is to use design to reduce structural inequity in America. Agncy is a 501(c)(3) nonprofit organization. © 2020 Agncy Design Inc.
augusta@agncy.org
Brookline, Massachusetts